Kilkenny in Ireland's Medieval East is beautiful all year long but there's something about autumn that makes this beloved destination even more spectacular.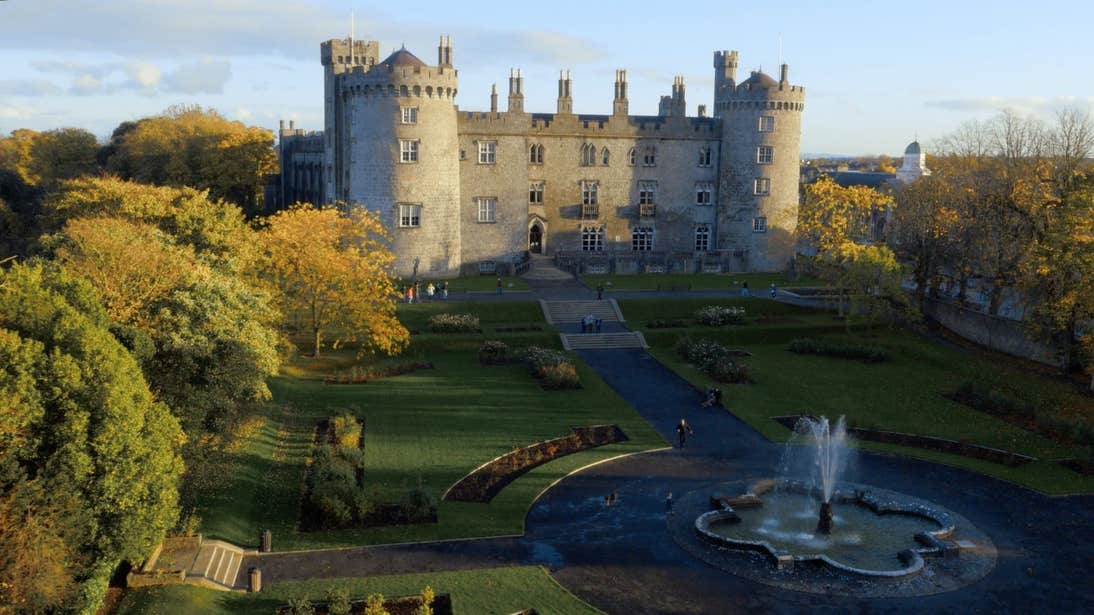 Is it the lower hotel rates and fewer crowds brought by the shoulder season? Or the breathtaking natural landscapes covered in gold, orange, and crimson? Maybe it's the wide array of festivals and events that keep the medieval city alive? Well, the good news is that you'll enjoy all of the above plus other perks when you visit Kilkenny during fall, which takes place from September to early November.
In this article, we'll uncover 7 reasons why autumn is the best time in Kilkenny Ireland.
1. Autumn Deals During the Shoulder Season
Kilkenny is not the cheapest destination in Ireland, so off-peak seasons like autumn can truly give a bang for your buck. With the tourists of summer flying back home, you can take advantage of booking a cheaper Kilkenny hotel and more availability of attractions, activities, and accommodation.
Autumn allows you to enjoy the same services and experiences as you would during summer but with more flexibility and better rates. You can The attractions, even the popular ones, would be less busy too — a plus if you don't like mingling crowds and long queues.
2. Visit Popular Attractions Without the Massive Crowd
Want to have a picnic at Kilkenny Castle and actually admire the scenery? Or take a museum and gallery trip? Or perhaps a nice afternoon stroll along the charming Medieval Mile? Since it's shoulder season, you don't need to worry about long queues or crowded and cramped attractions.
While summer is inarguably the best season for weather, autumn makes sightseeing and walking tours more visually pleasing. With fewer crowds in sight, you can truly admire the beauty and charm of every scenery, whether it's a natural wonder or a historic landmark.
3. Kilkenny's Roster of Festivals and Events 
Just because it's shoulder season doesn't mean Kilkenny sleeps during autumn. In fact, some of the best festivals and much-anticipated events roar during the autumn months.
Kilkenny's events calendar from September to November is packed with events on music and performing arts, literature, visual art, food, and culture.
September Sounds (September) – three days of outdoor live performances held by Kilkenny musicians (born or based), producers, promoters, and venues,
Kilkenny Animated (End of September – October) – a feast of visual storytelling, cartoons and animation, and illustration in a series of exhibitions, talks, performances, and workshops.
Savour Kilkenny (October 2022) – Marking the end of autumn is Savour Kilkenny, one of Ireland's favorite food festivals, The event brings together its wide array of food producers to celebrate the food, produce, and culture of Kilkenny and its surrounding pasturelands.
Other Kilkenny events lined up for Autumn:
Rás na mBan ( a premier women's cycling event in Ireland)
Pumpkin Picking at Hughes Farming
Kilkenomics (Economics and Comedy Festival)
4. The Emerald Isle Looks Breathtaking in Gold too
Autumn puts Kilkenny in its golden state too — both figuratively and literally. During fall, Emerald Isle's landscapes change from green hues to vibrant gold. fiery orange, and crimson.
The fierce skies and dramatic autumnal hues that blanket the parks, castle grounds, and other Kilkenny attractions provide postcard-worthy backdrops during your trip. The crisp weather is also perfect for walks, hikes, and sightseeing tours. Take in some fresh air and head to the picturesque Kilkenny countryside to admire Ireland's dramatic landscapes and heritage sites.
5. Autumn is Harvest Season
Autumn means harvest time in Ireland, and picking up food fresh from the farm is one of the best things to do. You don't need to wait for Savour Kilkenny festival to meet the best food producers — simply head to the nearest farmer's market near your hotel in Kilkenny — big or small — to snag fresh, organic produce and artisanal goods.
6. Kilkenny Pubs are Warmer and Cosier
Irish pubs are ideal places for music, food, and drinks all year long. However, autumn makes these places warmer and cosier. Some pubs allow you to have a pint of craft beer or a class of whiskey while curling up by the roaring open fires. Making the pub experience way better are the local bands, playing traditional Irish songs.
7. Kilkenny Loves Halloween
Did you know that our beloved spooky season has Irish roots? Well, there's no better place to celebrate Halloween than in Ireland. Kilkenny takes Halloween seriously with festivals, Halloween activities for families like pumpkin carving and trails, ghost tours, and even haunted pub tours.
If you want to skip the classic pumpkin carving events, why not try a ghost tour through Ireland's Medieval Capital? You may visit Kytelers Inn, the haunted pub in Kilkenny, and listen to the tales of Ireland's first witch over a pint or two. You can also uncover terrifying tales and horrid histories of Kilkenny's narrow alleyways and landmarks by joining Kilkenny Ghost Tours.
Kilkenny during the end of October is one of the best places to wear your spookiest costume and mingle with other paranormal fanatics. Just make sure your newfound "friend" is indeed a living, breathing one.
Enjoy your autumn trip to Kilkenny Ireland!
Author Bio: Carmina Natividad is a foodie and travel blogger who hates being locked up at home. Her fondness for travel, food, and cultural appreciation makes it easy for her to write inspiring pieces of content about them.